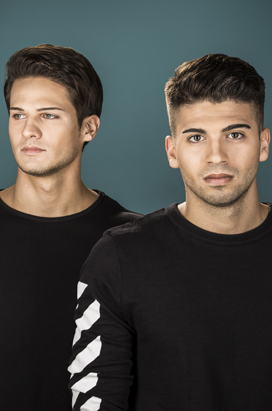 Vinai
(25 Feb)
Has entered DJ Mag Top 100 DJs list at No. 37 in 2016.
在2016年,他們成功登上DJ Mag Top 100 排行榜中的第37位。
Vinai is an electronic music group formed in 2011 by Italian producers Alessandro Vinai and Andrea Vinai. As a duo they have produced EDM songs such as "Louder" or "How We Party". DJ Mag called them "hardstyle," though they are known for producing what is called Melbourne bounce. In 2014 VINAI has also entered DJ Mags Top 100 DJs list at No. 62.
Vinai 在2011年成立,是由意大利製作人Alessandro Vinai 及Andrea Vinai所組成的電子音樂組合。他們製作了一些電子舞曲,例如: "Louder" or "How We Party"等。雖然大家都知道這些舞曲是Melbourne bounce的風格,DJ Mag 則形容他們為 "hardstyle",在2014年,他們更成功登上DJ Mags Top 100 排行榜中的第62位。
Event Calendar