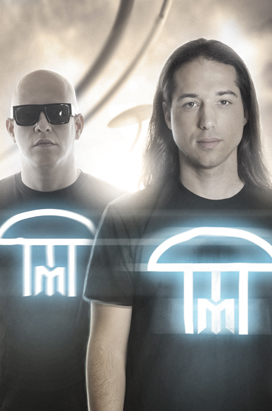 Infected Mushroom
(25 Feb)
Has entered the DJ Mag Top 100 DJs at No. 95 in 2016.
在2016年打入DJ Mag Top 100 DJs 排行榜中的第95位。
Electronic music, mega-revolutionaries Infected Mushroom are renowned for being the sonic innovators of crafting hypnotic arrangements, complex layered melodies and synthetic rhythms known as "Psychedelic Trance," leaving behind all their dying "Trance" cousins in the mainstream…Twice ranked as the world's "10 Best DJ's" by the Bible of the Scene (U.K.'s DJ Magazine), the Israel-bred, L.A. based duo Amit "Duvdev" Duvdevani and Erez Eisen have established their self- invented genre among the highest in the scene.
One could easily scour pages of the Internet in vain to find the epic level of music history defining the Infected Mushroom "kingdom." Their most notable achievements include: 1999 breakthrough debut album, The Gathering, which gained immediate attention on club dance floors and in the hands of Goa/Psy-Trance DJ's Fast >> 2007's their critically acclaimed and highest-grossing album Vicious Delicious, catapulted the duo onto new levels. The success of that album was met with high anticipation for another which was dropped in 2009 with the The Legend of the Black Shawrama. The album included noteworthy hit track, Smashing the Opponent, for featuring guest vocals by legendary Korn lead singer, Jonathan Davis. By no coincidence on the title, did Smashing the Opponent album-hit #8 on the Billboard charts.
電子音樂,大型革命者Infected Mushroom是著名製作迷幻音樂的創新者,其層次複雜的旋律和合成的節奏被稱為"Psychedelic Trance"(迷幻催眠式),把逐漸枯萎的"Trance"留在主流派中…兩次被Bible of the Scene (英國DJ雜誌)評為世界上 "10 Best DJ's" (十大最佳DJ),來自以色列和洛杉磯的Amit"Duvdev"Duvdevani和Erez Eisen,創造了屬於他們自己發明的音樂流派。
人們可以很容易地透過互聯網去搜索他們,會找到Infected Mushroom史詩級的音樂歷史,被稱為Infected Mushroom "kingdom" 。他們最為人知悉的成就包括:1999年突破首張專輯"The Gathering",當時立即引起一些跳舞俱樂部的注意和完全掌控了Goa/Psy-Trance DJ's Fast >>2007年,他們備受讚譽,而專輯"Vicious Delicious"亦為他們帶來很高的銷售量,這兩件事令他們推向更高的層次。專輯"Vicious Delicious"的成功令到別人對2009年推出的"The Legend of the Black Shawrama"有著很高的期望。這張專輯包括著名的熱門曲目"Smashing the Opponent",由赫赫有名的樂隊Korn中的主唱歌手Jonathan Davis擔任特別演唱嘉賓。恰似與專輯的標題「傳奇」一樣,"Smashing the Opponent"的單曲成為了Billboard 熱門排行上第8位。
Event Calendar